Sophisticated geo-analysis paves the way for more efficient and accurate expansion planning
Windsor, Berks, 7 September 2011 — Pitney Bowes Business Insight (PBBI), a global leader in customer data, analytics and customer communications, is supporting Germany's largest auto glass specialist, Carglass®, in its site location and expansion planning project. Using PBBI's MapInfo Professional and MapInfo Drivetime, customer, market and company data at street-level is transferred on to digital maps for easy spatial analysis allowing Carglass® to get an immediate overview of customer distribution, response rates or untapped market potential.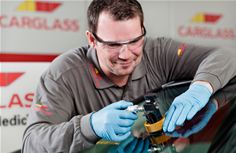 Carglass
Carglass® Germany is part of the international Belron Group. Belron is the world's largest company specialising in the repair of auto glass damage, AutoGlass UK being one of its many subsidiaries. As the leading auto glass specialist in Germany, Carglass® helps approximately 800,000 drivers in need of a new or repaired windscreen each year. With 260 permanent service centres throughout Germany, as well as a mobile onsite service, the company is able to guarantee quick and reliable support.
Sebastian Totzauer, Project Coordinator at Carglass®, explains why Carglass® opted to purchase PBBI solutions: "The principal factors behind our decision to opt for PBBI solutions were the straightforward data import process, the extensive analysis options for identifying business potential and the impressive ways the results can be displayed. The decision was also influenced by the fact that our parent company Belron® is already working successfully with PBBI — this will allow us to tap into synergies for strategic planning."
The desktop solution MapInfo Professional ensures Carglass® quick and reliable collation, processing and analysis of all geographically referenced data with graphic visualisation. GIS specialists and management alike are able to utilise the geographical analysis to help with their decision-making processes.
The MapInfo Drivetime extension, used for Routing, enables Carglass® to optimise time and route planning, and considerably improve its customer service with quick response times. The application integrates seamlessly into MapInfo Professional and allows the company to perform actions such as end-to-end routing, distance calculations, best routes for sales call schedules and site catchment analysis. The wide geographical distribution of mobile Carglass® employees also means that a careful planning process is essential – the PBBI solutions enable the company to optimise routing where ultimately both potential customers and the nearest windscreen warehouse need to be within easy reach.
MapInfo Professional and MapInfo Drivetime have been in use at Carglass® since the beginning of 2011, principally for location planning purposes and to analyse business potential for various regions. In this way, the existing subsidiary network can be optimised both quantitatively and qualitatively.
The solutions were installed by the IT team at Carglass® just two hours after they had been purchased and Totzauer is extremely satisfied with the performance and results: "Thanks to the applications, we can now undertake analysis and presentation stages that were not previously possible. We can ascertain the level of customer potential within predefined catchment areas and determine how much of this potential is being exploited, thereby enabling us to optimise our subsidiary network. The support provided by PBBI is highly proficient, helpful and quick."
Monika Semmler, Marketing Manager at PBBI, commented, "Location Intelligence is becoming increasingly key to boosting efficiency and growth rates and an increasing number of companies are making use of this competitive advantage. Large numbers of customers throughout the world rely on MapInfo Professional to analyse data, create maps and streamline processes. We are delighted that Carglass® is using our solutions to optimise its subsidiary network and improve customer relations."