Ground-breaking technology opens new revenue opportunities
Egham, 5 April 2016 – OKI Europe Ltd is taking printing to the next level for creative businesses and print houses with the launch of the new Pro6410 NeonColor printer and introduction of award-winning[1] white toner technology, to its Pro Series range of Graphic Arts printers.
Enabling the printing of super-bright, eye-catching fluorescent designs on transfer media for use on almost anything, the Pro6410 NeonColor liberates graphic designs from the limits of the standard CMY colour spectrum.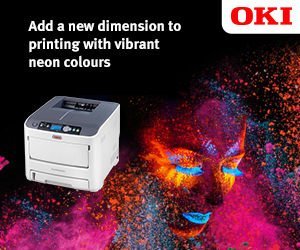 Print houses and graphic arts departments can employ its unique features to create fluorescent effects on either light or dark backgrounds, with the added option of using OKI's neon white toner as a security mark, only revealed when checked under UV black light.
The incredible versatility of the Pro6410 NeonColor and its vibrant colour spectrum means businesses now have fast access to new revenue-streams in garment and product decoration, personalisation, packaging and proofing, point-of-sale and in-store signage and education.
In addition to the Pro6410 NeonColor, OKI Europe has also introduced its award-winning white toner technology to its Pro Series graphic arts printers with the launch of the Pro7411WT and Pro9420WT printers.
These fast, affordable solutions unlock creative and commercial potential, combining High Definition digital LED printing with white toner technology, providing a level of performance that has normally only been achievable with expensive production equipment.
The flexibility in printing, proofing and production of these new solutions means deep, solid whites can be delivered on to a variety of coloured media or printed over other colours to create vibrant transfers for use on dark backgrounds.
"These new printers will unleash the full creative and commercial potential of print houses and graphic arts businesses," said Dave Willcox, product marketing manager, OKI Europe. "The Pro6410 NeonColor is another OKI first, electrifying conventional graphics with bursts of high-voltage, fluorescent colour on almost any medium.
"At the same time, our Pro7411WT and Pro9420WT make OKI Europe's highly innovative, award-winning white toner technology instantly accessible to a new range of businesses, allowing short-run production of display materials, bespoke stationery, T-shirts and merchandise.
"This is part of OKI Europe's continuous commitment to innovation that opens up new, practical, revenue-generating opportunities for customers."
The Pro6410 NeonColor and Pro7411WT offers A4 media versatility on weights of up to 250gsm and banner lengths of up to 1320mm, while the Pro9420WT expands the possibilities up to SRA3, weights up to 300gsm, as well as 1320mm banner lengths.
These printers join the ground-breaking OKI Pro Series range of Graphic Arts printers that feature unique in-built digital graphic arts technology.
Ideal for light production and graphic arts use and with a low upfront cost, the Pro Series delivers outstanding print quality, faster time to market and low running costs.
The Pro Series printers from OKI Europe are primarily targeted at sectors producing creative designs as well as those with a volume print requirement, including print houses, advertising, design and other creative agencies. Each printer in the Pro Series range is designed to help save money, with high-capacity consumables reducing user intervention and contributing to lower running costs.
OKI's innovative Pro Series range will be showcased at Drupa 2016, together with the newly acquired large format printers. Visit the OKI stand, Hall 5, B21.
For further information visit www.okieurope.com.
-Ends-
Notes to editor:
[1]In 2012, OKI Europe was the first manufacturer to introduce a range of digital LED A4 and A3 white toner printers, with the launch of the C711WT and C920WT.
In 2013, the C711WT and its product applications won the Best in New Technology category and Best in Image Transfer Product award at Euro Trophex in Amsterdam.