Upcoming Rich Interactive Mapping Webcast will be Hosted by Microsoft
Building Rich Interactive Mapping Applications with Virtual Earth, SQL Server 2008, and MapDotNet UX
( Vocus/ PRWEB ) March 4, 2009 -- ISC announced today that Microsoft Corporation will host a webcast oriented towards software developers who want to build next generation rich interactive mapping applications for the Internet and the desktop.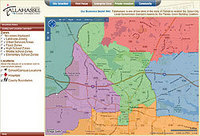 Economic Development Website
Attendees will learn how to create, visualize, analyze, and interact with spatial data using the latest Microsoft .NET technologies like Windows Presentation Foundation (WPF), Microsoft Silverlight, Microsoft Virtual Earth, and Microsoft SQL Server 2008. In this webcast, a walkthrough will showcase how to build a rich interactive mapping application from the ground up using Virtual Earth and ISC's MapDotNet UX.
The presentation will include demonstration of how easy it is to create data and maps using MapDotNet UX Studio. Benton Belcher of ISC will show attendees how to load spatial data into SQL Server 2008, how to author and publish a map to a server, and how to create a map tile cache. Following the data and map creation, the demonstration will showcase the MapDotNet UX software development kit (SDK) and out-of-the-box samples to rapidly build a WPF and a Silverlight application using Microsoft Expression Studio and Visual Studio 2008.
"Discover the power you have to create applications with incredible user experiences for visualizing, analyzing, and interacting with your world" said Benton Belcher.
Presenter: Benton Belcher, MapDotNet Account Manager, ISC
Date & Time: March 11, 2009, 14:00-15:00 Eastern Time
Registration: Please register here to attend this webcast