MILPITAS, Calif. – March 1, 2021 – Leading-edge MEMS and sensors advances for driving the next generation of medical and mobility applications will take center stage at the SEMI MEMS and Sensors Technical Congress (MSTC 2021), April 13-15, as industry visionaries and experts gather to discuss the latest trends and innovations in sensorization. Themed the Next Wave of Sensorization for Solving Our Shared Challenges, the virtual event will feature keynotes, panels, technical sessions, career booths and networking opportunities to help participants grow their businesses. MSTC 2021 will run daily 8:30am to 1:00pm Pacific Time. Registration is now open.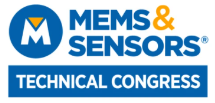 Sponsored by SEMI MEMS & Sensors Industry Group (MSIG), MSTC 2021 will offer a deep dive into how to bring sensor products to market, from design through fabrication and packaging, to end-use applications. Industry experts will explore the software and systems needed to expand both legacy and emerging MEMS and sensors to open new markets and business opportunities.
MSTC 2021 Keynote Speakers
Pieris Berreitter

, Director of Hardware Engineering,

Fitbit/Google

Crafting a Wellness Experience: How Commercial Sensors

Can Transform Health

Alberto Speranzon

, PhD, Technical Fellow, Autonomous Systems, Advanced Technology

,

Honeywell Aerospace

Sensors and Software Enabling Autonomy

for Urban Air Mobility

Predictive Maintenance with Machine Learning on AWS

Hyperspectral Nanosatellites as a Solution for Solving

Global Ecological Challenges
MSTC 2021 Technical Sessions
MSTC 2021 will also showcase sensor applications in the following areas:
Health and Well-Being

Autonomous and Industrial Vehicles

Environmental

Industrial Revolution 4.0

Sensor Analytics
MSTC 2021 is the third of eight conferences comprising SEMI's third annual Technology Leadership Series of the Americas. This coast-to-coast series provides a platform to foster critical discussions on short- and long-term influences as well as technical and business opportunities in the $2 trillion emerging markets.
About SEMI